Our Vehicles and Use
ACAD Apparatus consists of
Four (4) Ford F-450 Diesel Type 3 Modular primary response ambulances (3 -4×4)
Two (2) Freightliner Sprinter Diesel Type 3 Modular long distance transport ambulances
One (1) Ford E-350 Diesel Type 3 Modular reserve ambulance (4×4)
One (1) Ford Expedition –  Supplemental Resource Vehicle (SRV)
One (1) Event trailer
One (1) Mass Casualty Incident (MCI)Trailer
One (1) John Deere Gator UTV with Medical transport bed (and trailer)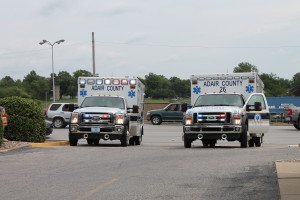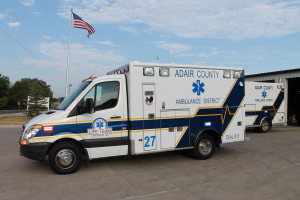 Specialty Equipment we Carry
Zoll Autopulse: The Zoll Autopulse is an automated chest compression unit that is used with patients in cardiac arrest. It squeezes the chest and heart allowing better blood circulation than standard manual chest compressions. These have been placed on the primary response ambulances and on the Kirksville Fire Departments, Medical First Responder Truck
Zoll X-series: The Zoll X-series Cardiac Monitor is a recent addition to the ACAD system. It allows for 3 Lead EKG, 12 lead EKG, Waveform Endtidal Carbon Dioxide monitoring, Carbon Monoxide monitoring, Pulse Oximetry monitoring, Invasive Temperature monitoring, Defibrillation, Cardioversion, Transcutaneous Cardiac Pacing, Blood Pressure monitoring, Wireless EKG transmission, and more…
Zoll Impact EMV+® 731 :

 Designed to meet military and civilian transport standards, the versatile EMV+® portable ventilator is ideal for air medical and ambulance transport of infants (≥5 kg), pediatric patients, and adults. Just 9.7 pounds (4.4 kg), the EMV+ is lightweight yet rugged and features an energy-efficient integrated, high-flow compressor and oxygen system. The unprecedented 10-hour battery run-time and multisource power system allow operation and rapid charging using any power source.  – www.zoll.com
Pediatric Equipment: Immobilization device, Pedi-Mate Transport Seat, Size based treatment equipment.
Combi-boards:

Are full body immobilization devices that can be separated into two pieces and slid under a patient to decrease pain from movement as related to trauma.
Stryker Bariatric Load System:  ACAD has two trucks equipped to handle the Stryker Bariatric Load system. We have one complete load system including the Stryker Bariatric Cot. The system will allow us to transport patients safely up to 1600 lbs and assist us in loading them into the ambulance safely.